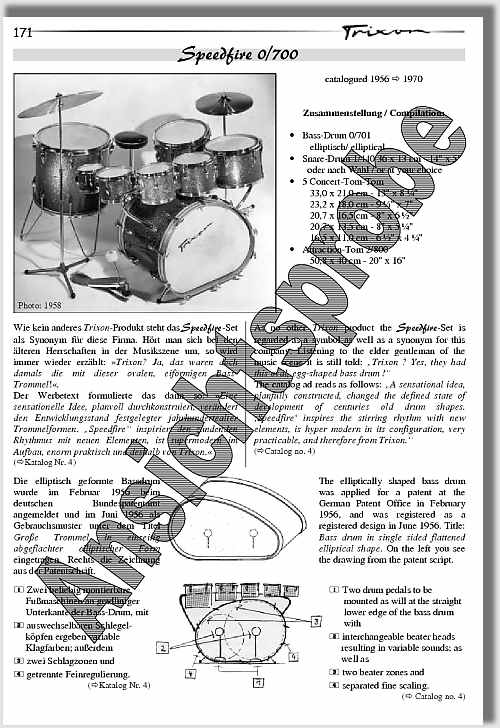 Prospective buyers in the USA:
please try to order the book at my partner

Bei diesen ausgewählten Händlern ist das Buch auch direkt im Laden zu haben:

Schlagzeugrestauration Stegner

Musik Kiste Peine in Germany
280 Seiten fett
(Daher aber leider über 1 kg schwer und nicht mehr als Büchersendung zu verschicken!)
und in DIN-A4 groß!!! Über 1.200 Fotos und Abbildungen!!!
Mit allen Informationen über die Trixon Geschichte, Schlagzeuger, Schlagzeuge, Hardware und Zubehör.
Inklusive 13 farbige Seiten, u.a. mit einer Seite aller Folien und 12 Seiten mit allen Katalogtitelbildern in Farbe!
Inklusive CD-ROM mit allen aufgeführten Trixon-Katalogen und Faltblättern (22 Stück!)
(nur für MS Windows-PC).
In der Gallerie berühmter Personen tauchen auf: Ivor Arbiter, Remo, Zildjian, Paiste, Erik van Aro, Brian Bennett, Ringo Starr, Big Fletchit, Freddie Brocksieper, Buddy Rich, Clem Cattini, Don Storer, Kenny Clarke, Freddie Crump, Chris Curtis, Dave Clark Five, Kurt Edelhagen, Siegfried Enderlein, Kurt Engel, Pierre Favre, Victor Feldmann, Allan Ganley, Ilja Glusgal, Max Greger, Bill Haley, Lionel Hampton, Kurt Henkel, Dave Holly, Daniel Humair, Gene Krupa, Juan Llossas, Hazy Osterwald, Teddy Paris, Hans Podehl, Karl Sanner, Phil Seamen, The Shadows, Pete York, The Tornados, Cherry Wainer, Charlie Watts, und viele andere mehr.
-------------------------------------------------------------------
280 pages fat!!!
Trixon history, drummer, drums, hardware and accessoires
inclusive 13 coloured pages, for example 1 page with all coverings and 12 pages with all catalog covers!
Inclusive CD-ROM with all Trixon catalogs and folder sheets presented in the book (22!)
(Only for MS-Windows PC)
Buchpreis:
39 Euro / approx. 54 USD
Versand Deutschland
in stabiler
Verpackung und
versichert per HERMES: 5,00 Euro

Shipping EU
insured in
strong packing by
HERMES: 15,00 Euro

Versand EU
in stabiler
Verpackung und
versichert per HERMES: 15,00 Euro
Shipping USA
and overseas
insured in
strong packing
by DHL:
airmail 20 Euro
Sorry about the high shipping costs
but the book is over 1 kg weight!
-------------------------------------------------------------
PAYPAL is accepted
but with additional 3% - 5% money transfer fee!