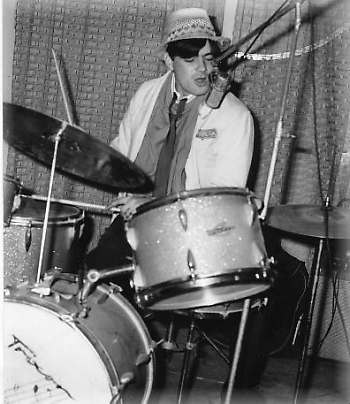 Giorgio Lello on his gold sparkle set
Alberto Lello (son of Giorgio) told us the story of
I Tranquilli:
>> My grandfather had been a drummer during '40s and '50s. He had always played Italian drumsets (mainly Alberti drumsets in white pearl finish) until 1957, when he entered his favourite music shop to buy a new drumset. He bought a new-brand's kit from Germany: the gold sparkle Trixon Luxus I have now. 8 months later, my father also started to play drums and in 1959 he formed a band who played mainly italian music and dancing music (samba, twist, tango, mambo, walzer, etc.). So my grandfather sold the gold set and bought a new Trixon set for my father: an aqua sparkle Luxus set with two bongos. Band's name was "I Tranquilli": drums, accordion, bass, electric guitar, singer. In those years my father was one of the best drummers of the high Tuscany and the guitarist one of the best musicians. So the success came quickly and they started to play in a lot of clubs and restaurant: first at the "Mokambo" (today "Vespucci 20"), the first pizza house in Massa Carrara (yes, my town, the town of the white marble), then in other towns of Tuscany and Liguria (La Spezia, Lerici, Forte dei Marmi, Viareggio, Florence).
At the "Il Pirata", one of the most famous dancing, they met Don Backy, a very famous italian singer, who will become their friend. They also played with other italian artists like Snobs, Liz Samaritano, Orietta Berti, Gianni Morandi, Sergio Endrigo, Fiammetta, Edoardo Vianello. At the half of 60s they won a competition, and they played two songs broadcast by the national radio: Radio RAI-1. The aqua set, marked by the wear, was sold to another drummer, and my father bought again the gold set, because the owner had given up playing. In march 1970 my father started to work with Dalmine, the factory which made steel tubes, and the band was dissolved.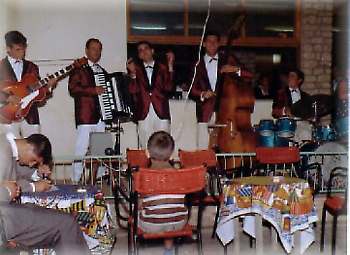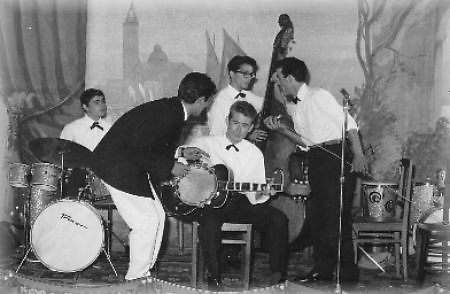 The drumset remained in a wet cellar until 1999, when I started playing. Now I want to recover the set because finish is spoilt: I found metric drumheads in a German shop for the snare, while there's a factory, in Italy, which is making calf-skin floor tom heads. Then I will buy a flat black plastic sheet and a spray chrome to give a new look to the shells. The detail I love more of the Trixon sets are the drums' hoops: modern hoops are 1,6 / 2,3 mm wide, while Trixon hoops are 10 mm wide. My friend have a Pearl drumset and he often break his sticks on the hoops: I spoil my sticks only on the cymbals.

<<< Aqua sparkle set in this photo was just bought!